COMPUTER BUGS STOLE MY GRANDMAS TAX FILES AND I GOTTA GO GET THEM BACK IN CYBERSPACE
YOU CROSSED .RIP REAL GOOD AND NOW THEY STOLE GRANDMA'S TAXES! YOU GOTTA JUMP INTO CYBERSPACE AND GET 'EM!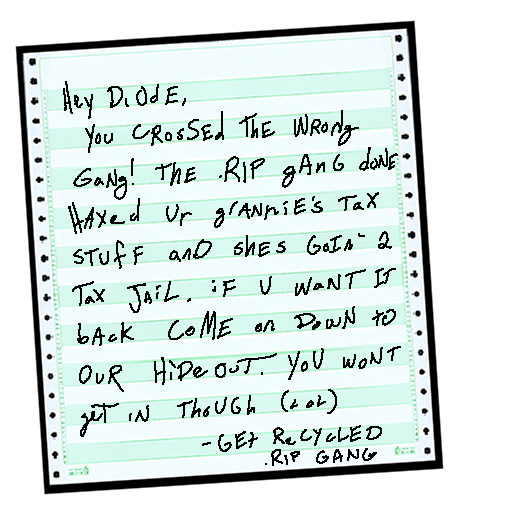 A short comedy adventure game where you must delve not-that-deep into the folder structures of cyberspace to retrieve your poor granny's taxes. Search the highs and lows of the Space Bar to learn more about .RIP, crack their firewalls, and disturb a number of wild little diodes along the way!

File unzipper required to play, download the rar file, unpack, and get ready to unpack some more!
Design, Art, Writing - Shane Hosea
Design - Will Lewis
Made for the Portland Indie Game Squad's Summer Slow Jams 2022 event, with "Stealth" and "Critters" as the themes. Play from all of the jam games here!
Download
Download
COMPUTER BUGS STOLE MY GRANDMAS TAX FILES AND I GOTTA GO GET THEM BACK IN CYBERSPACE.rar
1 MB